! -- This page was last modified on February 24, 2011 -- >
GASSMANN ELECTRONIC MUSIC SERIES

2010-2011


---
---
---

Wednesday November 3, 2010
Pamela Z
Works for voice, electronics, and video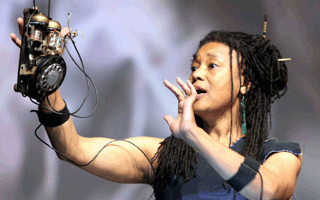 Winifred Smith Hall, UCI
8:00 pm, Free
An evening of solo works for voice, live electronic processing, sampled sounds, and interactive and fixed video, including excerpts from Pamela Z's large-scale multimedia performance works Voci, Gaijin, and Baggage Allowance.
Pamela Z is a composer/performer and media artist who makes solo works combining a wide range of vocal techniques with electronic processing, samples, and gesture activated MIDI controllers. She has toured extensively throughout the US, Europe, and Japan. Her work has been presented at venues and exhibitions including Bang on a Can (NY), the Japan Interlink Festival, Other Minds (SF), the Venice Biennale, and the Dakar Biennale. She's created installation works and has composed scores for dance, film, and new music chamber ensembles. Her numerous awards include a Guggenheim Fellowship, the Creative Capital Fund, the CalArts Alpert Award, the ASCAP Award, an Ars Electronica honorable mention, and the NEA/JUSFC Fellowship.
Also...
"Organic Technology: New and old tools for making live art"
A lecture presentation by Pamela Z
Music and Media Building, Room 218
5:00 pm, Free
Pamela Z discusses her use of digital technology with voice and gestures to create musical performance works.
---

Tuesday November 9, 2010
Roger Reynolds
The composition of Ariadne's Thread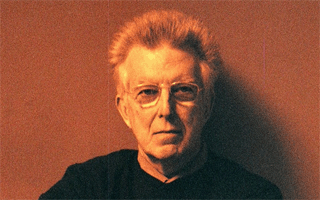 Music and Media Building, Room 220
5:30 pm, Free
Pulitzer Prize-winning composer Roger Reynolds discusses his composition Ariadne's Thread for string quartet and computer-generated sound, performed at UCI Saturday November 6, 2010 by the Eclipse Quartet.
Roger Reynolds is a renowned composer of intricately crafted music combining live performers and electronic sound. Ariadne's Thread was premiered in Paris in 1994 by the acclaimed Arditti Quartet, who later recorded it on the Montaigne label.
---
---

Wednesday February 23, 2011
Marcelo Wanderley
"Mapping Tools for Digital Musical Instruments"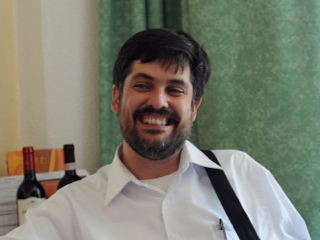 Realtime Experimental Audio Laboratory
Room 216, Music and Media Building, UCI
3:00 pm, Free
Mapping Tools for Digital Musical Instruments
Professor Marcelo Wanderley of McGill University demonstrates and explains software developed at McGill's Input Devices and Music Interaction Laboratory (IDMIL). The mapping tools provide a framework and GUI designed to aid collaborative development of a digital musical instrument mapping layer. The goal was to create a system that allows mapping between controller and sound parameters without requiring a high level of technical knowledge, and which needs minimal manual intervention for tasks such as configuring the network and assigning identifiers to devices. Ease of implementation was also considered, to encourage future developers of devices to adopt a compatible protocol.
Also...
"Percussive Gesture Analysis and Synthesis"
A lecture presentation by Marcelo Wanderley
Realtime Experimental Audio Laboratory
Music and Media Building, Room 216
Thursday, February 24, 3:30 pm, Free
Percussive Gesture Analysis and Synthesis
This project focuses on the interaction of autonomous, realistic and musically-gifted virtual agents with sound synthesis systems. Our interest lies both in the analysis and the synthesis of percussive gestures. On the one hand, the analysis focuses on timpani gestures and aims at extracting relevant movement features. On the other hand, the synthesis part involves an inverse-dynamics control chain of a mechanical virtual agent model. For improved realism, we will use physical modeling for sound synthesis. We expect that the virtual agent simulation will show the relevance of gestural control in animation, since gesture influence acts on the fine nature of the produced sound and on the spatial and temporal coordination of movements in charge of musical expressivity. This work is the result of a collaboration with the Université de Bretagne Sud, France (Ph.D. thesis of Alexandre Bouënard, co-directed by Prof. Sylvie Gibet).
Marcelo Wanderley is Associate Professor in Music Technology at McGill University's Schulich School of Music. He directs the Input Devices and Music Interaction Laboratory (IDMIL) at the Centre for Interdisciplinary Research in Media Music and Technology (CIRMMT). His research interests include human-computer interaction, gestural control of sound synthesis, and new musical instrument design. His main research goal is the development of novel devices for music performance. Since 1995 he has been involved in various projects related to gestural control of sound synthesis and more recently has been involved with the international conference on New Interfaces for Musical Expression as a member of its steering committee and as the chairman of the NIME-03 conference. He co-edited the electronic book Trends in Gestural Control of Music [Wanderley and Battier, 2000] and co-wrote the textbook New Digital Musical Instruments: Control and Interaction Beyond the Keyboard [Miranda and Wanderley, 2006]. Professor Wanderley holds a Ph.D. in Acoustics, Signal Processing and Computer Science Applied to Music from the Université Paris VI (France).
---

Thursday March 3, 2011
The Secret Language of Freeways
Amy X Neuburg and The Robin Cox Ensemble
"Avant-cabaret" pieces for voice, electronics, and chamber ensemble by Amy X Neuburg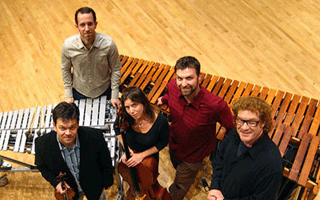 Winifred Smith Hall, UCI
8:00 pm, Free
Neuburg performs fresh versions of her quirky, theatrical, and comic gems, fronting the Robin Cox Ensemble with her voice and electronics. The concert includes the premiere of a work for violin and eight pre-recorded violins, and a commissioned large-scale chamber piece. Both Neuburg and the Robin Cox Ensemble are known for innovative use of electronics in live concert performance, which characterizes much chamber music of the 21st century.
Also...
"Expressive Use of Technology in Live Music Performance"
A lecture presentation by Amy X Neuburg
Winifred Smith Hall
3:30 pm, Free
Neuburg discusses and demonstrates her use of live technology in solo performance, particularly her emphasis on live looping, and how this technology has both evolved and devolved in more recent work with ensembles.
Amy X Neuburg has developed a unique career bridging the boundaries between classical, experimental and popular music. Her "avant-cabaret" songs combine her interests in language, expressive use of music technology, and exploration of multiple genres using the many colors of her wide vocal range. She has performed at the Bang on a Can Marathon, Other Minds, and other festivals, universities, rock clubs, and concert halls throughout the U.S. and abroad. Commissions include works for Present Music, Santa Cruz New Music Works, Solstice, and others. As a vocalist, Amy has been featured in contemporary operas and recordings including works by Robert Ashley, Culture Clash and Guillermo Galindo.
Since 1999 The Robin Cox Ensemble has given over 150 performances, released three critically acclaimed CDs, and broadcast on over eighty radio stations. Along with Cox's own music, this "post-classical" group performs music of a diverse range of composers incorporating amplification, electronic sound, and video to create unique concerts. Recent commissions and concerts have included performers and composers such as Todd Reynolds, Andrew Russo, Bill Ryan, Sarah Cahill, Eve Beglarian, Common Sense Composers Collective, Pamela Z, and UCI's Alan Terricciano. RCE also frequently performs in non-traditional and theatrical venues, bringing to stage work of UCI's Loretta Livingston along with more than thirty pieces of other video artists, dance companies, and playwrights.
The Robin Cox Ensemble is supported by Iridian Arts, Inc.
---
---

Wednesday April 27, 2011
[THE]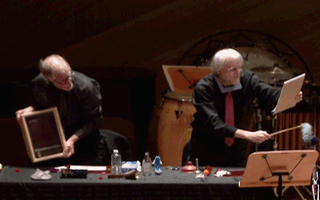 Winifred Smith Hall, UCI
8:00 pm, Free
Edwin Harkins (trumpet) and Philip Larson (baritone) are the renowned performance duo [THE]. With a blend of theatrics and musical performance, they present a variety of unique virtuosic original works full of subtle humor and complexity.
[THE] is a composing/performing duo founded in 1977 by Edwin Harkins and Philip Larson. They have performed at Music Today in Tokyo, Paris Autumn Festival, the Darmstadt Ferienkurse, the Inter-Society for the Electronic Arts in Rotterdam, the Suzuki Theater Festival in Japan, the New Music America Festival in Chicago and PICA in Perth, Australia. They have collaborated with John Cage, Toru Takemitsu, Anthony Braxton and media artist Vibeke Sorenson. Their award winning video, made with Vibeke Sorenson, has been shown at the SIGGRAPH conference in Los Angeles and festivals in Copenhagen, Rio de Janeiro, Seattle, Souillac France and Madrid.
---

Thursday May 19, 2011
ICIT Student Concert
New music works by students of the UCI Music Department's innovative MFA program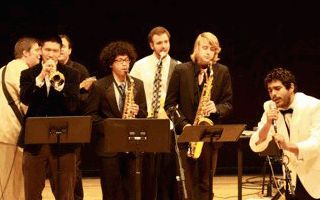 Winifred Smith Hall
8:00 pm, Free
The third annual concert presenting original new works by first-year MFA students in Integrated Composition, Improvisation, and Technology (ICIT) in the UCI Music Department.
---
This page was last modified on February 24, 2011.
Christopher Dobrian
dobrian@uci.edu