! January 5, 1998 >
The GASSMANN ELECTRONIC MUSIC SERIES Presents
LAETITIA SONAMI
---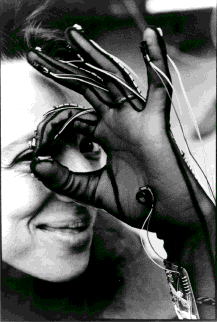 ---
VIRTUAL REALITY GLOVE-CONTROLLED ELECTRONIC MUSIC
A LECTURE/DEMONSTRATION
by
Laetitia Sonami
Wednesday, February 18, 1998
3:30 pm, UCI Concert Hall
Admission: FREE
Composer/programmer/performer Laetitia Sonami will demonstrate a virtual-reality interactive performance system of her own design, and will discuss technical and aesthetic issues in her own compositions and performances using glove-controlled electronics.
This lecture is funded by the Gassmann Electronic Music Studio and the UCI Music Department.
The UCI Concert Hall is wheelchair accessible.
For more information, phone (714) 824-7288.