! January 5, 1998 >
The GASSMANN ELECTRONIC MUSIC SERIES Presents
MARK DRESSER
and
MATTHIAS ZIEGLER
---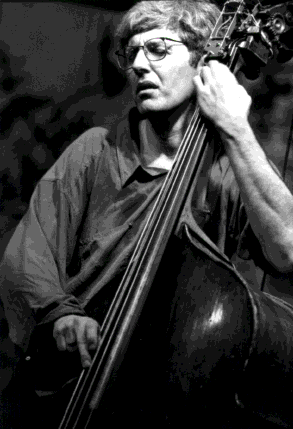 ---
ELECTRONICALLY ASSISTED PERFORMANCE
A Workshop
by
Mark Dresser and Matthias Ziegler
Matthias Ziegler, flute
Mark Dresser, bass
Monday, February 2, 1998
3:30 pm, UCI Concert Hall
Admission: FREE
New music performers Mark Dresser and Matthias Ziegler will discuss and demonstrate techniques for integrating electronic amplification and sound processing with live instrumental performance.
Mark Dresser, Matthias Ziegler, and pianist Denman Maroney will perform as the trio FORCE GREEN the same evening at 8:00 pm in the Concert Hall.
This workshop is funded by the Gassmann Electronic Music Studio and the UCI Music Department. The appearance by Matthias Ziegler is funded in part by the Swiss Cultural Foundation "Pro Helvetia". The appearance by Mark Dresser is funded in part by the Meet the Composer Fund. Funding from Meet the Composer, Inc. is provided with support from ASCAP, the Metropolitan Life Foundation, and the National Endowment for the Arts.

The UCI Concert Hall is wheelchair accessible.
For more information, phone (714) 824-7288.