! September 29, 1997 >
The ORANGE COUNTY PERFORMING ARTS CENTER and
The GASSMANN ELECTRONIC MUSIC SERIES Present
MORTON SUBOTNICK / JOAN LA BARBARA
Informally Yours
A LECTURE/PERFORMANCE on Subotnick's new multimedia work Intimate Immensity for Balinese dancer, video, two singers, and two computer-controlled pianos
Tuesday, October 7, 1997, 3:00 pm, UCI Concert Hall
Admission: Free
Informally Yours gives audience members a "behind-the-scenes" performing arts experience. SUBOTNICK and LA BARBARA will alternate selections from their repertoire with comments about their lives, careers, and art.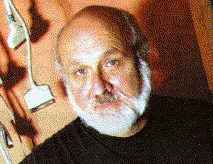 Morton Subotnick is one of the United States' premiere composers of electronic music and an innovator of works involving instruments with other media, including interactive computer music systems. A pioneer of electronic music in the 1960s, he continues to be a leader in the field; in addition to his work as a composer and teacher, he has recently produced the children's CD-ROMs Making Music and Making More Music. Currently he co-directs the composition program and the Center for Experiments in Art, Information, and Technology at the California Institute of the Arts.
Joan La Barbara explores the human voice as a multi-faceted instrument expanding traditional boundaries, creating works for multiple voices, chamber ensembles, musical theater, orchestra, and interactive technology. She has developed a unique vocabulary of experimental and extended vocal techniques, garnering awards in the U.S. and Europe including the prestigious DAAD Artist-in-Residency in Berlin and six NEA grants. In addition to concertizing and recording worldwide, she currently teaches contemporary vocal and composition technique at The College of Santa Fe.
Informally Yours with Morton Subotnick and Joan La Barbara is made possible by the Orange County Performing Arts Center, and is hosted by the Gassmann Electronic Music Studio and the UCI Department of Music.
The UCI Concert Hall is wheelchair accessible.
For more information, phone (714) 824-7288.