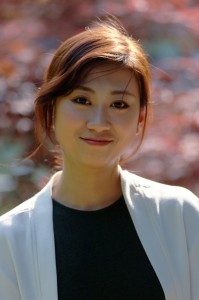 Chinese​ ​composer,​ ​concert​ ​pianist,​ ​Yihui​ ​Liu​ ​​is​ ​currently​ ​pursuing​ ​her​ ​Ph.D.​ ​degree​ ​in the​ ​ICIT​ ​program​ ​(Integrated​ ​Composition,​ ​Improvisation,​ ​and​ ​technology)​ ​at​ ​University of​ ​California,​ ​Irvine.
Holding​ ​a​ ​master's​ ​degree​ ​in​ ​solo​ ​piano​ ​performance​ ​from​ ​the​ ​Juilliard​ ​School​ ​under​ ​the tutelage​ ​of​ ​Matti​ ​Raekallio,​ ​Yihui​ ​resides​ ​her​ ​musical​ ​concentration​ ​also​ ​in​ ​scoring​ ​for pictures,​ ​electronic​ ​music​ ​production,​ ​and​ ​interactive​ ​performance​ ​technology.​ ​She​ ​has worked​ ​closely​ ​with​ ​famous​ ​musicians​ ​and​ ​composers​ ​including​ ​Mari​ ​Kimura,​ ​Edward Bilous,​ ​Greg​ ​Kalember,​ ​Joel​ ​Sachs,​ ​Vincent​ ​Olivieri,​ ​Lukas​ ​Ligeti​ ​among​ ​others.​ ​She finished​ ​her​ ​bachelor​ ​of​ ​music​ ​degree​ ​at​ ​Oberlin​ ​Conservatory​ ​studying​ ​with​ ​Robert Shannon,​ ​where​ ​she​ ​also​ ​studied​ ​conducting​ ​with​ ​Raphael​ ​Jiménez​ ​and​ ​John​ ​Knight, and​ ​Jazz​ ​theory​ ​with​ ​Bobby​ ​Ferrazza.
As​ ​a​ ​classical​ ​concert​ ​pianist,​ ​her​ ​solo​ ​recitals​ ​and​ ​orchestra​ ​performance​ ​were​ ​heard all​ ​over​ ​the​ ​world​ ​including​ ​Germany,​ ​France,​ ​Czech​ ​Republic,​ ​Netherlands,​ ​USA, Canada,​ ​Singapore,​ ​among​ ​others.​ ​In​ ​2016,​ ​she​ ​showcased​ ​in​ ​the Choreographers&Composers​ ​project​ ​at​ ​Juilliard.​ ​Her​ ​interpretation​ ​of​ ​Maurice​ ​Ravel's music​ ​was​ ​awarded​ ​by​ ​the​ ​Fontainebleau​ ​Schools​ ​in​ ​France.​ ​She​ ​collaborated​ ​with famous​ ​classical​ ​performer​ ​Robert​ ​Levin​ ​on​ ​the​ ​project​ ​of​ ​conducting​ ​from​ ​the keyboard.
Yihui​ ​advocates​ ​for​ ​various​ ​music​ ​genres​ ​and​ ​styles​ ​to​ ​be​ ​equally​ ​valuable​ ​and expressive.​ ​She​ ​privately​ ​produces​ ​electronic​ ​dance​ ​music,​ ​collaborates​ ​with​ ​pop singers,​ ​and​ ​enjoys​ ​watching​ ​Japanese​ ​animes​ ​and​ ​horror​ ​movies.
https://soundcloud.com/yihui6666
https://www.youtube.com/channel/UCJjOO0osEYhgezSaHT19dHA?view_as=public