ICIT Thesis Recital: Juan David Rubio – Spatia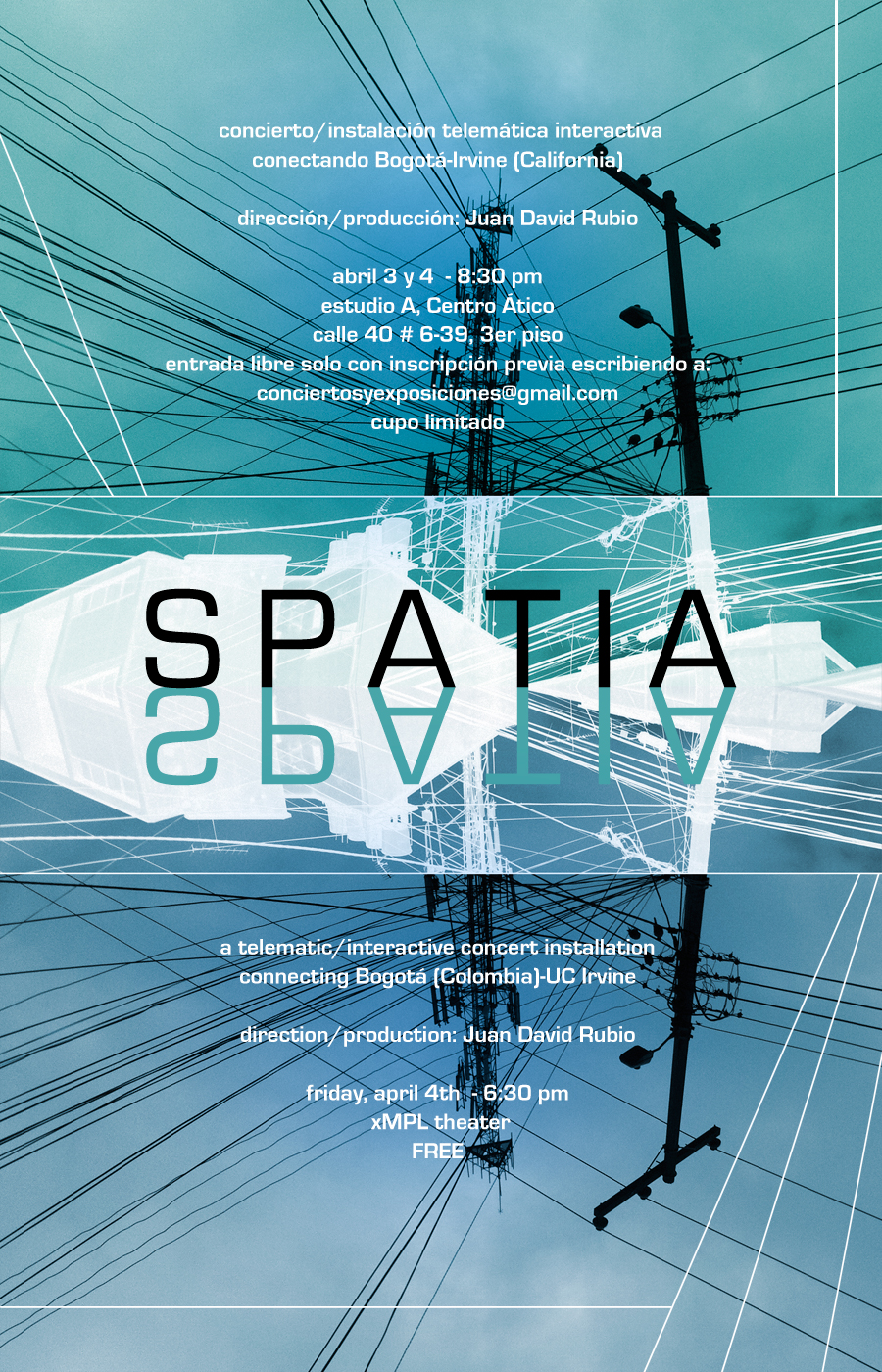 Times and locations:
In Irvine, California:
Friday, April 4th, 6:30 pm
Experimental Media Performance Lab (xMPL), Contemporary Arts Center
University of California, Irvine
Free admission
In Bogotá, Colombia:
Thursday, April 3rd (Bogotá only) and Friday, April 4th, 8:30 pm
Centro Ático, Pontificia Universidad Javeriana
Free admission
Spatia
A telematic interactive concert/installation
On April 4, 2014, composer/percussionist/multimedia artist Juan David Rubio presents Spatia, a telematic, interactive concert/installation using high-bandwidth "Internet2" networks to connect the Experimental Media Performance Lab at the University of California, Irvine and the Centro Ático in Bogotá, Colombia, Rubio's country of origin. In both locations, audiences will see and hear three "local" live musicians performing alongside high-quality audio-video projections of three additional "remote" musicians who are performing live at the other site.
Spatia begins and ends with concert-like performances by all the musicians, between which there will be a nearly hour-long installation in which audience members at each site will be able to interact with and guide the remote musicians by manipulating a telematically controlled lighting system. As audience members play with lighting dials in their space, their choices will change the brightness of the lighting on individual musicians in the remote location, changes which also signify cues to the remote musicians to play different musical materials. With audiences and musicians building a collaborative experience across two geographic locations, Spatia is an exploration of the emerging medium of telematic performance, using its inherent characteristics to inspire new forms of artistic creativity.
Directed by Rubio as part of his MFA Music thesis work in Integrated Composition, Improvisation and Technology at UC Irvine, this project is a highly collaborative effort among musicians, visual artists, sound artists and lighting designers, all working together in two countries to create a unique multimedia environment. In constructing a single virtual space constituted by two geographically separate locations, Spatia is the outcome of a year-long journey of technological and aesthetic exploration of the telematic medium, one whose purpose is to propose alternative aesthetic approaches to new performance platforms.
Personnel:
In California:
Anna Savery (violin)
Paul Sinclair (clarinets)
Richard Savery (flute)
Elizabeth Erickson (audio/networking)
Hassan Estakhrian (video/networking)
Naomie Winch (lighting design)
Juan David Rubio (direction/production)
In Bogotá:
Santiago Botero (double bass)
Eduardo Caicedo (percussion)
Daniel Leguizamón (guitar)
Angélica Piedrahita (video/networking)
Juan David Sierra (audio/networking)
Juan David Rubio (direction/production)