Seth Houston
DMA, University of Southern California
Seth Houston, Director of Choral Activities, joins the faculty of the University of California, Irvine, Claire Trevor School of the Arts in fall 2015. In addition to directing Chamber Singers and Concert Choir, Houston teaches courses in musicianship.
Houston holds a DMA degree in choral music from the University of Southern California Thornton School of Music, where he studied with Jo-Michael Scheibe, Morten Lauridsen, Nick Strimple, Cristian Grases, and Donald Brinegar. He also holds a master of music degree in choral conducting from the University of Colorado and a bachelor of music degree in composition from Oberlin Conservatory of Music.
Prior to his appointment at UCI, Houston served for two years as director of choral activities at Carroll University in Waukesha, Wisconsin. Under his leadership, Carroll's Concert Choir performed Ralph Vaughan Williams's Dona Nobis Pacem at Carnegie Hall in New York, performed Mozart's Requiem with the Wisconsin Philharmonic, and represented Carroll at the Wisconsin State Music Conference. In addition to directing Concert Choir and Chamber Singers, Houston taught courses in choral literature, choral methods, choral conducting, vocal pedagogy, and music history. He also served as chair of the Wisconsin All State Collegiate Choir. Other recent positions include director of the DeKalb Festival Chorus in DeKalb, Illinois; Director of Music at Unitarian Universalist Community Church in Santa Monica; and founding director of Canticum Novum L.A.
Houston's choral compositions and arrangements, published by Santa Barbara Music Publishing, Inc., Walton Music (a division of GIA Publications), and Northern Harmony Publishing Company, are widely performed throughout the United States and internationally. Works such as Stars I Shall Find, Emerald Stream, and The Reapers All with Their Sharp Sickles have proven especially popular in the contemporary choral repertoire.
Houston has presented papers at national conferences of the National Collegiate Choral Organization, American Brahms Society, and College Music Society, as well as regional conferences of the American Musicological Society and College Music Society. His research interests include the music of Brahms and Schumann; shape-note music; and choral tuning systems.
A committed educator, Houston taught middle school and high school choir for nine years. He also founded and directed the independent youth choir Big Sky, taught with Village Harmony, and served as ChiArts Partner Conductor with the Chicago Children's Choir. He is in demand as a guest conductor, adjudicator, and composer in residence. For more information on Houston's choral activities, please visit www.sethhouston.com.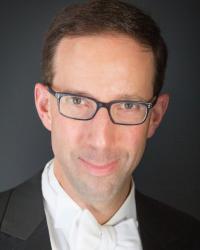 Title:
Assistant Professor of Teaching; Director of Choral Activities; Associate Chair for Performance