Schubert, Songfulness, and the Body, a lecture-recital with Arved Ashby, Jiung Yoon, Robin Buck and Sarah Koo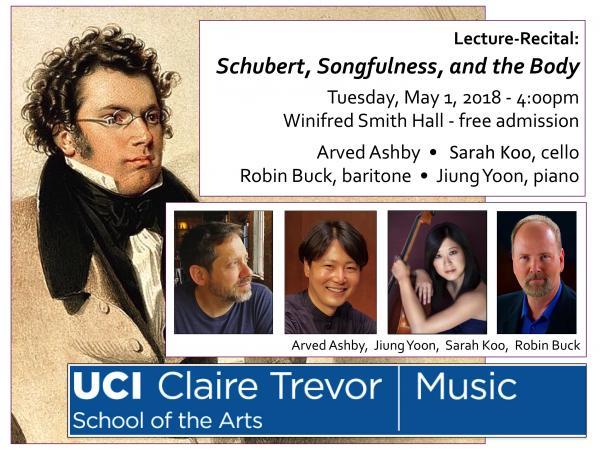 Schubert, Songfulness, and the Body
A lecture-recital with Arved Ashby, Jiung Yoon, Robin Buck and Sarah Koo
Tuesday, May 1, 2018
4:00 pm
Winifred Smith Hall
Join us for "Schubert, Songfulness, and the Body," a Schubertiade featuring comments about Schubert with Arved Ashby, with special guests Robin Buck, baritone, Sarah Koo, cello, and Jiun Yoon, piano.
Arved Ashby offers a rumination on Schubert rather than a lecture, subjective provocations that go deeply and thoughtfully below the surface of the music, reflecting on superb performances by Buck, Koo, and Yoon. Movements and Lieder performed include the Andante of the Piano Trio No.1 in B-Flat Major, D.898, the Andantino of the Piano Sonata in A Major, D.959, the Allegro moderato of the Sonata in A Minor for Arpeggione and Piano, D.821, "Ständchen" (Rellstab) (Schwanengesang, D.957, No.4), "Der Wanderer" (Lübeck), D.493, and "An die Leier" (Brachmann), D.737. Yoon will also play excerpts from Moment Musical in A-flat Major, D.780, No.2, the "Wanderer Fantasy" in C Major, D. 760 and the Piano Sonata (Fantasy) in G Major, D.894.
Free admission and open to the public.